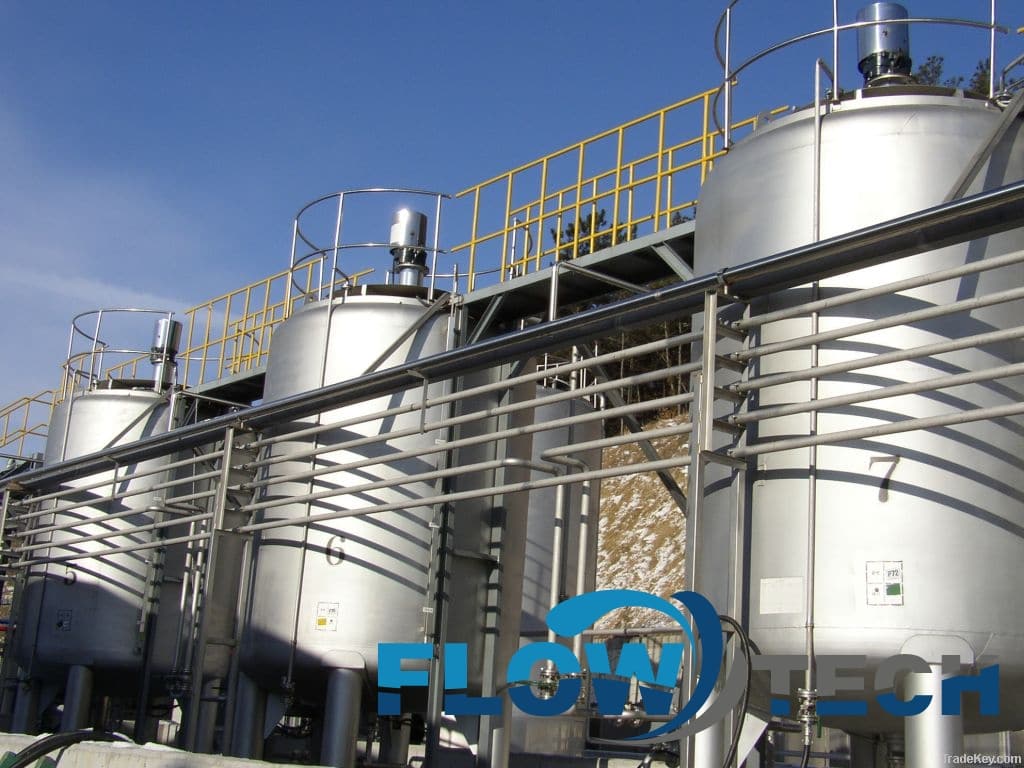 ---
Flowtech company is distinguished a big experience in modernization branch of food industry`s productions and a development it from scratch. Also realization of various equipment by order included in our competence. We are representing blending tank on this page. Equipment same type in food industry use for creating blends various alcohol productions, and such product as syrup, kvass and other kvass drinks. Same type equipment in food industry use for creating various blend of alcoholic products and other kvass drinks.
Flowtech equipment
That equipment use for creating mix with two or more liquids. Aggregate mix`es liquid very fast. Liquids in required ratio are followed through branch pipes in blending tank. Mixing liquids using a high speed mixer start after a container filled to the required level. Blending tank consist of food stainless steel. Agregat's construction is representing by:
cylindrical form single-layer tank with torosferic or coniform bottom;
lid (flat, conical or torosferic) on tank;
frame or height-adjustable brackets for wich blending tank installed;
branch pipes, wich by tank is filled (they equiped electromagnetic valves or cranes);
hatch, wich mounted into tank`s lid and providing easy maintenance of cavity.
Blending tank is consist high-speed mixing devise with gear motor reducer; blocking sensor when hatchway is opening, measuring device for control liquid temperature inside tank, sampling valve, cleaning heads and measuring tube.
Blending tank`s (with mixer) price
Our company proposes gainful conditions for partnership. If You deciding to buy our equipment, You will not be mistaken. If you buy «Flowtech» equipment for you factory you get high-quality and reliable blending tanks, which price will suit you. Before the required sample will be sending to you, we are carry out research of the appointments at your plant for the perfect new work units` integration if it need. Prices for blended mixing tanks vary from customer to customer, as the features of its production and characteristics of the equipment to be purchased are taken into account.