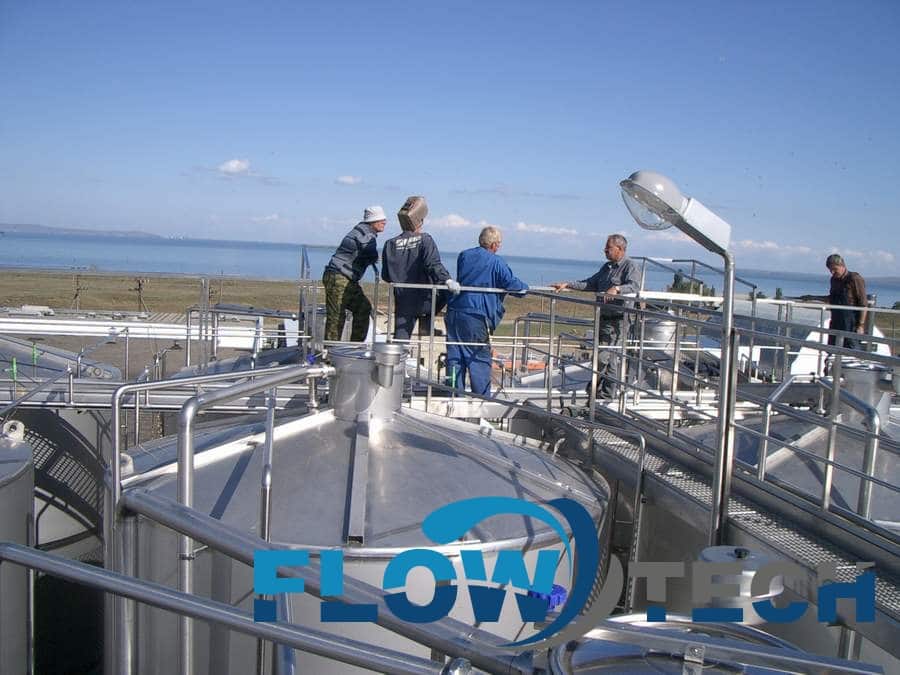 ---
The company "Flowtech" has a lot of experience in modernization of production and construction of new plants from scratch. We conduct activities related to the creation, installation and adjustment of equipment for various enterprises, mainly employed in the food industry. For companies we offer in particular installation of ladders from stainless steel and platforms. We guarantee you products of high quality materials that will serve you for a long time and make the production process convenient and efficient.
Installation of stainless steel ladders from Flowtech
In industrial buildings, buildings of industrial enterprises, residential buildings the platforms consist of beams, ladders, fencing and flooring. Basic structures of buildings, technical equipment or special columns serve as a support for platform. For ladders and platforms the sizes corresponding to requirements of building norms and rules are chosen. The design of platforms is followed by fire-fighting standards, as well as regulations for industrial buildings and fencing protective inventory. The constructions of the platforms and ladders are made in such a way that, with the minimum costs of material and labor, they can be used as conveniently as possible. The platforms must withstand certain loads with a coefficient of reliability, which corresponds to the norms prescribed in the normative document "Loads and Impacts". Stairs and platforms are separate forwarding elements. The structures allow to organize the compound staircases consisting of the bottom and the top part, rigidly mating among themselves with the help of special finishing details.
To create designs used metal parts like:
fittings;
pipes;
corners;
steel sheets;
high-grade steel, etc.
Products made of metal are joined using welding equipment. Welding should be carried out by specialists to prevent the appearance of chips, cracks, scratches, porous surfaces and other defects. At the end of welding, the resulting joints between metal elements cleaned and polished. Industrial production is often characterized by an aggressive environment, so exploited service areas should be protected from the following negative factors:
chemical substances;
ultraviolet;
moisture.
Structures made of metal are processed with the help of polymers, they can also be chrome plated, galvanized, etc.
Order installation services platforms and ladders
Your cooperation with our company will be fruitful thanks to loyal policy towards clients. "Flowtech" team thoroughly investigates the production, on which you will install new equipment or items for service that the client was able to get a 100% return on purchase. At the same time we always listen to the customer's opinion when performing the work.