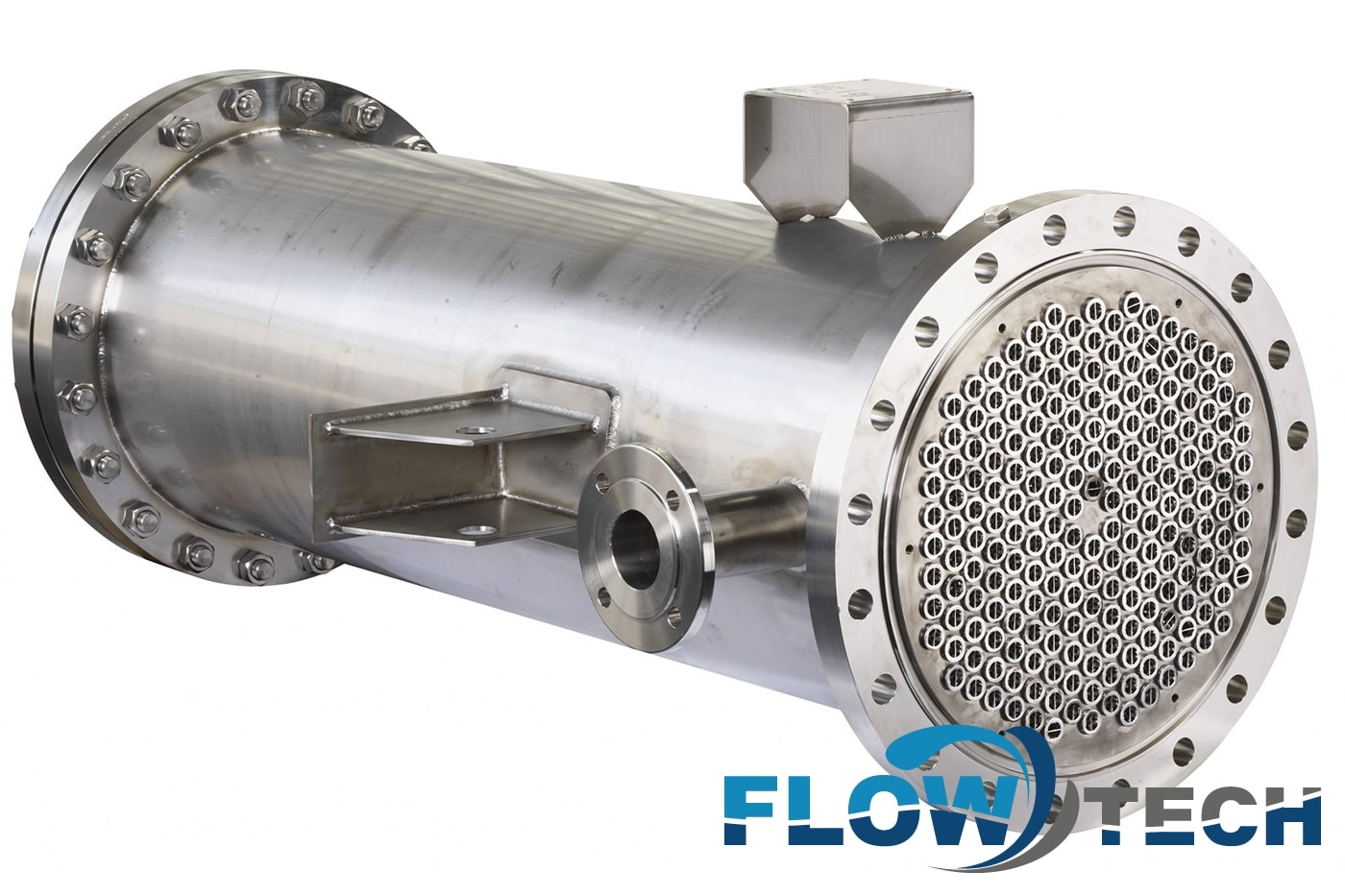 ---
Flowtech is a company that manufactures, sells and produces installation of technological equipment. Our team is qualified masters who have a great experience in modernization of plants, and also in construction of new productions from the scratch. We are mainly engaged in designing food and chemical plants. We also sold a variety of technological equipment for the enterprises individually and in large quantities. On this page we offer you to purchase shell and tube heat exchanger.
The tubular heat exchangers from Flowtech
These units are designed to transfer heat from the coolant, which is a hot substance, to a cold substance, which, in fact, is heated. Various gases, vapors or liquids act as heat carriers. In modern industry, the most popular are shell-and-tube analogues. They are recuperative. The principle of operation of the tubular heat exchanger is to move the hot and cold coolant through two different channels, while the heat exchange is carried out between their walls. Shell-and-tube heat exchangers are quite complex in structure. Their species diversity is quite extensive. Their main classification is based on the direction of coolant flow. Based on this, there are shell and tube heat exchange apparatus:
cross-flow;
countercurrent;
direct-flow.
By design, there are shell and tube heat exchangers:
having a temperature shell compensator;
having fixed tubes;
having a U-shaped tube;
equipped with floating head.
Shell-and-tube heat exchangers are called so, thanks to the thin tubes which are in the main casing on which the heat carrier performs movement. The speed of the substance depends on the number of tubes inside the casing, and the heat transfer coefficient depends on it. Tubular heat exchangers are made of doped and high-strength steels. This choice is due to the extremely aggressive environment inside the device during operation, which quickly causes corrosion.
Buy shell and tube heat exchanger
Firm Flowtech is loyal to its customers. Here you can buy shell and tube heat exchanger at a quite low price. Cooperating with the companies, we consider wishes of the customer and features of its production. Therefore, a considerable part of the equipment is manufactured and configured according to individual parameters. Thus, to buy a shell-and-tube heat exchanger in Flowtech is to get the most suitable technical unit for its production.