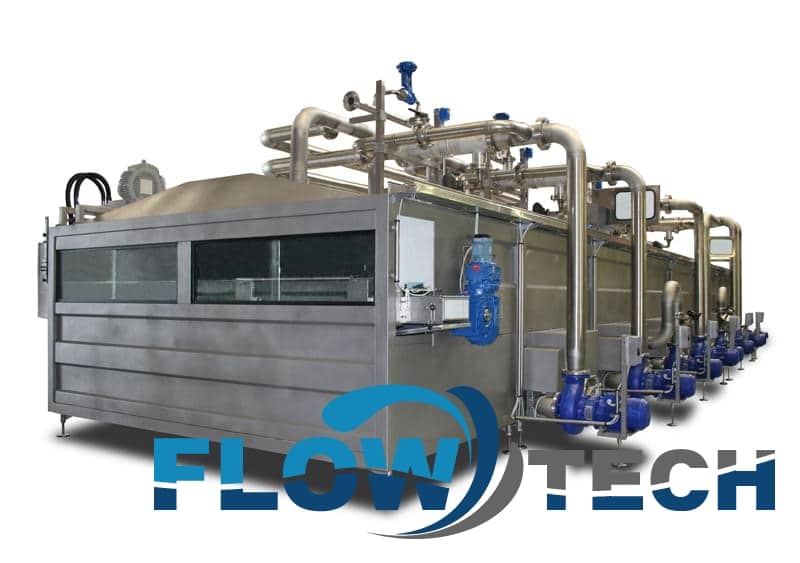 ---
The company "Flowtech" is engaged in the implementation and installation of high-quality and reliable equipment. We cooperate with enterprises specializing in the production of food products. In particular, we propose to purchase equipment such as tunnel pasteurizer. Our team has extensive experience in equipping various enterprises of the food industry with reliable and productive equipment. We carry out both the modernization of production facilities and their design from scratch.
Tunnel pasteurizer from the Flowtech
Units of this type are used for heat treatment (heating, pasteurization, cooling) in the stream packaged products, located in glass or metal containers. Nominal composition tunnel pasteurizer submitted:
machine body and drive;
conveyor for containers;
irrigation device regulation systems, feed water to a specific temperature;
pumps and pipelines;
cooling system.
The machine body is a structural structure that consists of different zones separated from each other. As they pass through these zones, the tare is heated to the required temperature, which corresponds to a certain technology. The internal space of the unit can be seen through the inspection windows. Within each sector of the machine, the movement of water is carried out using pumps. With the circulation of water, it is filtered through a sieve to avoid clogging the injectors. The conveyor is used for continuous movement of containers by temperature zones. The traction elements in the device are chains, which are based on heat-resistant polymer materials or stainless steel. The irrigation device evenly covers the container with a stream of water of certain temperature. The liquid that drains is collected and after passing through the filtration and pumps are again fed into the circulation circuit. Heating of water is carried out by means of the built in system of a pipe strapping of heaters. Temperature adjustment is in full automatic mode.
Buy tunnel pasteurizer
Cooperation with Flowtech is the acquisition of high-quality technological products and obtaining a full range of services for its production from professionals. By ordering goods from us, you will make the right choice. Our specialists will help you to choose the necessary model, as well as if necessary they carry out installation and adjustment of new equipment. To order the equipment you need, go to the "Contact us" section of our website and contact us in any convenient way for you.
In addition to the above, we manufacture and stream pasteurizers. Well proven in the production of liquid products, such as beer or juices.